Recognizing that one has a problem is the first step towards overcoming addiction.  Recognizing that one harbors a chemical dependency on roasted caffeinated goodness … not so much.  I am a full-blown, pull-my-hair-out-by-the-roots java junkie.  I don't need help, I just need a double espresso with a finish so smooth it could be mistaken for a shot of liquid chocolate pudding, with just the gentlest punch of bitterness to let me know it was there.
Navigating the streets of Scottsdale as I attend to the affairs of an artificially tireless Realtor, I often find my vehicle caught in the tractor beam of a certain coffee franchise.  The telltale logo of the not to be mentioned chain exerting some jedi mind trick that compels me to add a cup of coffee to the itinerary, whether truly needed or not.  We have all had our brains thoroughly washed.  The convenience of a store on every corner and a known commodity effectively overriding the inherent appeal of a true coffee house: the attention to unique local roast, the vibe, a menu that goes beyond pre-packaged food choices.
We have willingly exchanged quality for convenience.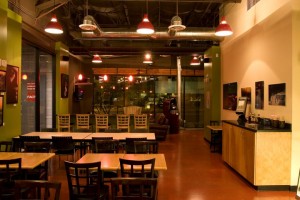 What if I were to tell locals to the South Scottsdale and North Tempe area that you can have both?  Boasting a locale that has screamed for just such a new neighbor, recently opened Echo Coffee is the brainchild of Steve Belt, formerly of Realty Executives.  Anyone who knows Steve will attest to the fact that he doesn't do anything half-way.  From the scrutiny of the individual beans to the roasting techniques utilized, he has managed to create several distinguishably unique brews (including the flagship "Titus" blend) that overwhelm any lingering desire of this self-professed coffee snob to return to the barren confines of the brand that rhymes with "Tarsucks."
Echo Coffee is not  my new favorite Scottsdale coffee shop for the product alone, but for the ultra modern atmosphere that buzzes with technology enthusiasts, professionals, students, etc.  As techie as they come (hence the superb attention to minutia that makes the joint shine), Mr. Belt has crafted an environment that encourages a connoisseur to bring his/her laptop, tap into to the available Wi-Fi and comport the virtual dealings of the day.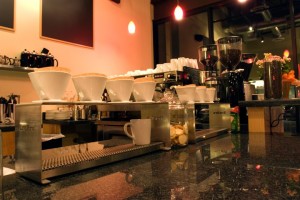 While just about every confection you have been hooked on by the big guys is available at Echo Coffee, I am a black coffee kind of guy.  I highly recommend chasing a shot of espresso with a cup of the Titus blend while nibbling on the absurdly delicious Mediterranean Tuna sandwich (an amazing tuna fish creation with cannellini beans, olive oil, vinegar and challots on foccia bread with no heart-attack inducing mayo).  It's an organic menu to boot, if you are into that sort of thing.  Think locally and give an upstart a shot.  My hunch is you won't be tempted to return to the soulless purgatory of the coffee Borg anytime soon.
Echo Coffee is located at the NW corner of Thomas Rd and 68th St. in Scottsdale, AZ (85251).  Let me know when you're going and I'll meet you for a cup!
Please visit Echo online for hours, directions and additional information.