Paul Slaybaugh is a native of Scottsdale, Arizona and a second-generation residential Real Estate agent.  Licensed in 1999, Paul has the requisite experience to match an aggressively innovative style.  Among the forefront of Web 5000.0 (yes, I skipped ahead so I don't have to update this page every time the tech world jumps another "point oh") practitioners who utilize new technologies to provide superior service to clients, he devotes equal time to new wave techniques and traditional "boots on the ground" Real Estate practices.  With one foot in the virtual world and one in the real one, this strategy has earned Paul multiple inclusions in the Realty Executives 100% Club for annual production, as well as induction into the Realty Executives' Hall of Fame in 2014. Working with buyers and sellers alike, Paul is as passionate about finding the needle in the haystack that is the perfect home as he is about marketing a property for sale.  In those rare moments when he is not working, Paul is most assuredly enjoying the company of his growing family in the three ring circus he likes to call home.  Paul thinks he has written more than enough about himself in the third person now.  After all, it's not all about Paul.  It's about you.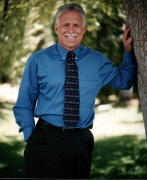 Ray Slaybaugh has been selling homes in the greater Scottsdale area since the Cretaceous Period (okay … 1974).  A Realty Executive since 1976, there is little, if anything, that Ray hasn't seen during his decorated career of serving buyers and sellers.  A winner of nearly every award there is to win within the company for production as well as one of the longest-tenured members of the company Hall of Fame, Ray remains committed to each and every client as if they were his first.  A Certified Residential Specialist (CRS) and member of the Realty Executives Corporate Relocation team, Ray has also served multiple terms as a branch office manager, been featured in Broker/Agent Magazine and earned the Realty Executives President's Award in 2005 for a career of distinguished, ethical service (awarded annually to one Exec).  Credentials aside, Ray is 50% responsible for Paul, so that has to be worth something.
Based out of McCormick Ranch in Scottsdale, Ray and Paul specialize primarily in Scottsdale, NE Phoenix and Paradise Valley, while also serving the neighboring communities of Cave Creek, Carefree, Fountain Hills, Glendale, Tempe, Mesa, Gilbert and Chandler.  On occasion, they will venture to the further flung communities of Queen Creek, Apache Junction, etc, just be prepared to stop at least twice for Starbucks along the way.  Awards and self-congratulatory prose out of the way, what Ray & Paul really specialize in is providing the best customer service going.  Knowledgeable, capable, affable and dedicated, you won't soon forget your Real Estate experience when you work with the Slaybaugh tag team.  And that's a good thing.
_____________________________________________________________________
Now, enough about us!  Go utilize the amazing search capabilities of this site to start the hunt for your new home, register to receive new listing alerts via email, request an online property evaluation, read the random musings of a quasi-literate … but I digress.  If you need assistance, virtually or otherwise, we're your huckleberries.
Ray & Paul Slaybaugh
Realty Executives
(480) 220-2337
10607 N. Hayden Rd 100
Scottsdale, AZ 85260
If you absolutely must have more self-serving propaganda, you can read about Ray & Paul in a 2003 Broker*Agent Magazine spotlight.  Click pages for more (we look so young!).
Contact us today if we can be of service.