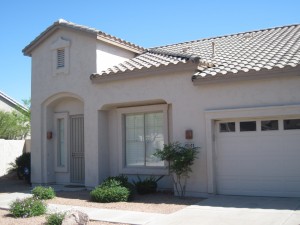 "Alright, alright. Mickey's a mouse, Donald's a duck, Pluto's a dog. What's Goofy?"
– Gordie, Stand By Me
Patio homes: what are they?
If you have been in Scottsdale for any period of time, or have been shopping for a home from afar, you have undoubtedly encountered the term patio home more than once.
You know what a single-family home is. You know what a condo is. You even know what a townhouse is.
But what the hell is Goofy?
The term, patio home, is not a legal descriptor. It does not describe a style of ownership. It is really more of an idea than a legal thing.
For brevity's sake, we'll define a patio here in accordance with prevailing wisdom. Most consider a patio home to be a cross between a townhouse and a single-family home; a hybrid, if you will. Patio homes bridge the divide between traditional housing types. You can think of a patio home like a single-family home that has been plopped onto a townhouse sized lot. That's a gross oversimplification, of course, as patio homes come in all shapes and sizes, but this post is to serve as a handy crib sheet, not a thesis.
The idea is to provide housing with relatively low outdoor maintenance without sacrificing the size of the home itself. In other words, patio homes are tailored to those who still want the privacy and comforts of a single-family home, just not all of  the headaches and expenses that come with the standard single-family lot.
The typical patio home may be attached to a neighboring property by one or two common adjoining walls (like most townhouses), or be free-standing (like most single-family homes). Many patio homes are single level, but they can have multiple levels, too. Patio homes typically do not have neighbors above or below them, as is common with apartment style condos.
Patio home ownership varies from development to development. Some entail fee simple ownership (you own the lot in addition to the structure). Some entail condo ownership (you do not own the lot, just a fractional interest in the common area).
Responsibility for property maintenance varies as well. Some communities have very active homeowner associations that provide for front landscaping maintenance as well as select exterior structural maintenance of the homes themselves. Other patio home communities more closely reflect single-family ownership, in which homeowners are fully responsible for all maintenance associated with their properties. You need to check community CCRs to determine exactly what is and what is not covered by the HOA in a patio home development.
If you like the idea of a smaller, low-maintenance lot, but aren't quite ready to step all the way down to a townhouse or condo, a patio home might be just the thing for you. Popular with seasonal residents as well as full-time residents who frequently travel or simply prefer a little less upkeep, patio homes exemplify the lock-and-leave lifestyle that many Scottsdale home buyers seek.
So there you go. Not so Goofy after all, is it?
Ready to start your Scottsdale patio home search? Follow the new listing feed below for the very latest active listings, updated daily!