One of the more locally revered addresses in all of Scottsdale, Paradise Valley Farms is a subdivision that often escapes the notice of buyers from out of area.  Buffeted by the well-known planned community meccas of McCormick Ranch and Gainey Ranch, as well as the actual Town of Paradise Valley which sits directly across Scottsdale Road, Paradise Valley Farms is a small niche of acre parcels with grandfathered horse privileges.  Despite the rampant redevelopment that has seen massive new Tuscan style homes replace many of the older ranch style properties, horse set-ups and equestrian trails are still abundant in this community that sits just South of where the actual working Gainey Ranch once stood (North of Eastwood, where the Shops at Gainey Village and the Gainey Village subdivision now sit).  I am still taken aback when I drive by the newer construction that now stands in place of the barbed wire enclosed cattle ranch that I knew as a youth, but I digress.
While luxury home buyers primarily think in terms of Paradise Valley, DC Ranch, Silverleaf, Ancala and other buzz name communities, few neighborhoods can rival the charm of Paradise Valley Farms.  Boasting gorgeous tree-lined streets (rare outside of the Arcadia and central corridor areas) and a pleasing mix of architectural styles amongst the custom homes, a taste of a bygone era blends seamlessly with modern convenience and styling.  And the location … is simply perfect.  Central to virtually everything (shopping, schools, lakes, golf, resorts, etc), but tucked away from the major streets, Paradise Valley Farms is the end destination to which Scottsdale home buyers aspire.  Not a move up or make do home, but that special place where they will plant roots that run as deep as the cypress and eucalyptus that guard the hidden paradise from interlopers.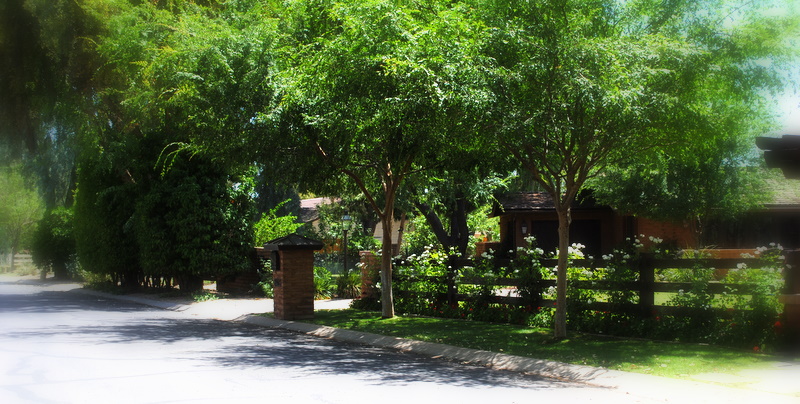 A home in Paradise Valley Farms signifies your arrival, just without all of the guard-gated country club pretentiousness that some associate with high end Scottsdale housing.  Neighbors don't hide in their houses or retreat to their backyards.  This is a neighborhood of walkers and wavers.
Given the radical difference from one property to the next, it almost seems disingenuous to roll out the subdivision statistics and averages.  Nevertheless, here they are:
Amongst the 56 homes in Paradise Valley Farms, the construction dates range from 1968 to 2007.
The average home size is approximately 4125 square feet; the smallest being 2373 square feet, and the largest being 7374 square feet.  The latter number will be unceremoniously trounced when the property at 8217 N 75th St turns over, however.  Framed for approximately 14,000 livable square feet (no, that is not a typo!), the project was abandoned by the previous owner.  It is currently on the market and awaiting an intrepid soul to finish Scottsdale's version of the Taj Mahal.
__________________________________________________________________
All 56 properties are single-level, and 48 (86%) include private swimming pools.
Zoned R-43 for residential lots with 43,000 square foot (1 acre) minimum lot sizes
Cochise Elementary, Cocopah Middle and Chaparral High School Districts
No HOA
Horse Privileges
Neighborhood Bridle Paths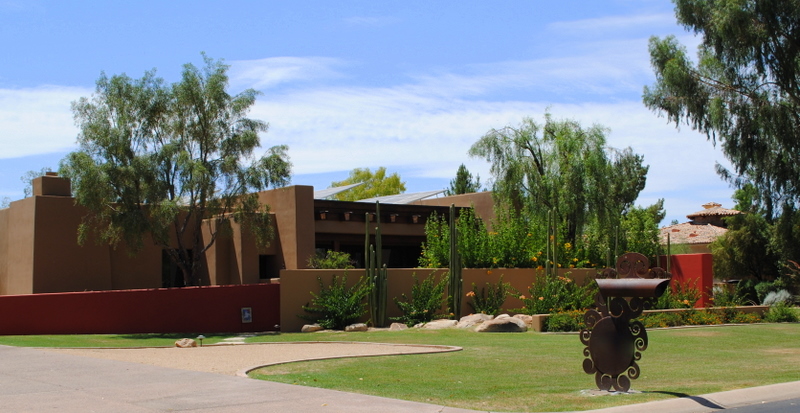 Ready to start your Paradise Valley Farms Home Search?
Check the Live Feed Below for New Paradise Valley Farms Listings
Or Visit the Paradise Valley Farms Home Search Page
________________________________________________________________
________________________________________________________________
Whether you are buying or selling, contact Ray & Paul Slaybaugh for all of your Scottsdale Real Estate needs.  Put nearly 50 combined years of Scottsdale home sales to work for you!  Contact us today for more information about the little piece of Sonoran paradise known as Paradise Valley Farms.
(480) 220-2337 | paul@scottsdalepropertyshop.com