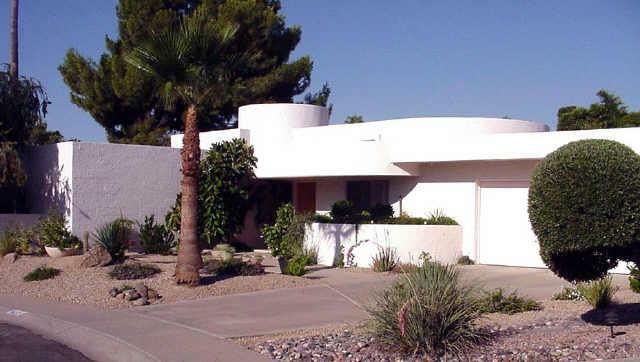 Departing from the traditional Spanish style homes that is typical in McCormick Ranch (and all of Scottsdale in general), we now turn our attention to a subdivision that is architecturally unique for the area:  Mountain View East.
Mention modern architecture to most laypersons, and one name immediately comes to mind: Frank Lloyd Wright. Through Taliesin West in Scottsdale, the Frank Lloyd Wright Foundation continues to carry on the legacy of its iconic namesake. Personally responsible for various landmarks throughout Arizona, Wright gave birth to an entire school of architects/builders which incorporated his philosophy of "organic architecture" and design into a select few Scottsdale neighborhoods. One such subdivision is Mountain View East in McCormick Ranch.
Developed by the Riggs Construction Co. and designed by John Rattenbury of the Frank Lloyd Wright Foundation, Mountain View East is the quintessential subdivision for Frank Lloyd Wright inspired houses in central Scottsdale. From the exterior lines, which look sterile to critics and sleek to fans, to the generous use of glass to bring the outside in, you either love these ultra modern designs or you hate them. It has been my experience that people are either inspired by the styling of these homes, or think they look like dentists' offices. No middle ground.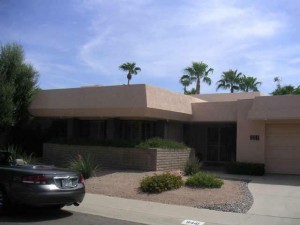 Built between 1979 and 1983, Mountain View East is located within what is commonly referred to as North McCormick Ranch (Chaparral High School District). There are 51 total properties in the subdivision, with the average home having approximately 2750 square feet. A whopping 92% (42) of the homes have private pools. There are 47 single level homes, as compared to only 4 2-story homes. The neighborhood is zoned R-7, which entails single family residences on minimums of 7000 square ft lots.
Clean lines, block construction, clerestory windows and all of the hallmarks of modern design are evident in these homes. Geometric shapes, from the front elevations to the rear planters and pools, are evident throughout. For Frank Lloyd Wright style modern architecture, it is just about the only game in the immediate area. There are custom homes along the lakes of McCormick Ranch and in Paradise Valley which fit the bill, but with prices starting well over a million dollars, they are not viable options for those with less extravagant budgets.
See the home plans for this subdivision on the McCormick Ranch Home Floor Plans page (scroll down to "Riggs")
---
---
Current Homes For Sale or Lease in Mountain View East (Updated Daily)
---
---
Whether your preference is traditional Southwestern architecture, or something a little different, Ray & Paul Slaybaugh with Realty Executives are your guides to finding the home and community that are distinctly "you." Call us at (480) 220-2337 or drop an email to paul@scottsdalepropertyshop.com to start your search for the home that is as unique as you are.