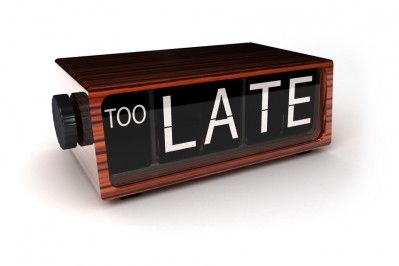 The closing table is no place for incompetence.  The crescendo to a Real Estate transaction, the signing of loan documents and the final settlement statement is representative of a successful navigation of the escrow obstacle course.  If it were a cinematic experience, an empowering musical score would soar over the montage of conquered struggles that it took to get to this point.  While a few credits have to roll before the buyer can officially call the property home, namely lender funding of the loan and recordation of the deed, smiles and handshakes accompany the last executed signature in the two inch stack of paperwork, nonetheless.  In years past, agents and consumers alike have been spoiled by the well-oiled machine that was the title and escrow field.  Catastrophes arose, catastrophes abated and we lost our minds if a closing was delayed twenty four hours by unavoidable eventualities.
These days, I consider myself lucky if a closing isn't delayed two weeks and my clients draw anyone other than Sparky, the one brain-celled signing agent.
With new disclosure regulations, a completely different settlement statement and a host of new concerns with the transfer of clear title due to the pervasiveness of foreclosure and short sale properties in our midst, an accomplished escrow officer has never been more vital to the process of a home sale.  Unfortunately, many of the good ones were forced out of the industry when the market hit the skids in 2007.  When sales finally began to rebound, the major title/escrow companies restocked their ghost offices.  As the predominance of these properties were distressed, however, it was the REO (bank foreclosures) and short sale divisions that welcomed new staff.  The resale divisions remain largely undermanned.
The REO division of a title company is an entirely different universe.  Like that of a REALTOR who specializes in listing bank property, transactional volume is ludicrously high.  Too many files on too few desks.  You can imagine how this translates to the urgency with which your file gets treated.  Another component that is not necessarily to the buyer's benefit is the relationship between the bank and the title company they have procured.  Supposedly a neutral third party whose purpose is to convey the property from the current owner to the buyer, the myth of its transactional Switzerland is a tale taller than the Alps.  If the sheer dollars involved in a title company's relationship with a bank (or the bank's asset management affiliate) does not dictate outright obedience to the demands/whims of one party over the other, it sure does influence behavior.  I have been nonplussed during the course of bank property transactions (the buyer MUST use the bank-selected title company if his/her offer is to be accepted) in which the title company is the one contacting me with seller demands, essentially performing the role of the listing agent by proxy.
It is expected that one will have to tolerate a third party that is subservient to its master in a bank property sale (and not overly concerned with getting the file closed in a timely fashion to boot), but problems are now creeping into "normal" resale transactions between living, breathing human buyers and sellers.  For starters, with many resale divisions depleted of adequate staff, it is not an unlikely scenario to get stuck with an escrow officer who primarily handles REO accounts.  Flip a coin between whether said officer is overworked or under-experienced, but too often lately a less than exemplary job is being done.  Documents are not being requested/delivered on time, assistants are left to answer questions they are not ready to field, communication between the officer and the buyer's lender is nonexistent … I've even encountered "signing agents" at closing who are neither the selected escrow officer, nor capable of explaining the documents upon which they want your signatures.  One clown literally tossed the paperwork in my lap and told me to explain it all to my clients.  Had I not been rendered utterly speechless, I would have ordered the hall monitor to escort the fresh lad to detention.
Mind you, these are not mom & pop style title companies, but reputable names that do a very high volume (perhaps too high?) of business.
The moral of the story?  Unless you are purchasing a bank property, and thereby resigned to the amusement of escrow fate, you have a choice in the matter.  As the buyer, you get first crack at naming the title company in your initial offer.  Sellers (upon direction from their chosen representatives most often) may list their own preferred company amongst the terms that are countered, but don't cave.  Unless your agent can point to specific, positive dealings with said officer/company in the past, I urge you to stick to your guns.  Going back four or five years, a title company was largely a disposable part of the negotiation.  As long as you got your price, you let the other party get the perceived "win" of naming the company.  The recent changes to the escrow landscape make such a laissez faire approach to the title work fraught with peril.  Make this term non-negotiable.  More often than not, the other party will buckle rather than lose a sale over what many still consider a minor point.
When selecting a company, your chosen agent is the best source of advice.  We have favorites for a reason, and it is not monetary.  Through trial and error, we find excellence in all of our affiliates.  When we find a diligent service provider, we are loyal.  In this day and age, though, a little prevent defense is still warranted.  Ask your agent who underwrites the title policies of his recommended escrow company (title and escrow are not necessarily synonymous) before satisfying yourself as to its viability.
I happen to use Jenny Werner with First Arizona Title.  Her policies are underwritten by the big boys at First American.  She chaperones her files quite adeptly to prevent avoidable delays and miscues, and is very responsive to consumer questions/concerns.  Whether you employ me to assist you in the purchase of a home or not, I highly recommend you write Jenny's services into the agreement.  Your movers and peace of mind will thank you for it.  Eventually, the other party will as well.
________________________________
Jenny Werner, First Arizona Title
11333 N. Scottsdale Road
Suite 160
Scottsdale, AZ 85254
Phone: (480) 385-6500
Fax: (480) 385-6800
________________________________