House after house you visit. This one too big, that one too small. This one with a funky added "bonus" room, that one with a host of dubious "updates".
Just when you are ready to give up the hunt, the skies part, and the perfect home appears on the market horizon like Odysseus finally returning to port.
And it sells in like two minutes … before you even get a chance to see it.
Don't let it happen again!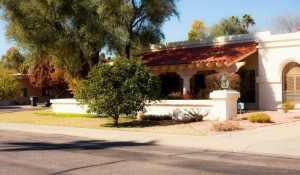 Situated in the coveted Estate Los Arboles subdivision of McCormick Ranch, this nearly 3200 square foot Camelot home offers the perfect palate for your vivid cosmetic ideas.
Structurally sound with great "bones", this Embassy model includes all of the architectural features that you have been struggling to find in McCormick Ranch: 4 bedrooms, 2.5 baths, 3100+ sq ft, elevated ceilings, large island kitchen, large walk-in pantry, recessed lighting, new(er) kitchen appliances, wet bar, fireplace, natural light-providing atrium, master suite with sitting area, large guest bedrooms, heated pool & spa, and more.
(click images to enlarge)
Some of the cosmetics are in need of updating, and the seller has carved out some room in the listing price for you to bring your own ideas. Why pay for someone else's remodeling when you can pick exactly what you want?
Don't mistake this opportunity to add your own finishing touches for a distressed home, however. The owner has taken exceptional care of the property, adding a new roof in 2010, re-plastering the pool, replacing the hot water heater, and performing other needed maintenance over the years.
The heavy lifting has been done. All that is left for you to tackle is the fun stuff!
Located mere steps from the famed McCormick Ranch greenbelt, all of the amenities of McCormick Ranch are readily accessible and walkable. With the Paseo Village Shopping Center within minutes on foot in one direction (McDonalds, LA Fitness, Sumits Yoga, Lock Stock & Bagel, Walgreens, etc), and Comanche Park immediately next door to the subdivision in the other direction, there is no shortage of choices for the day's agenda.
It's up to you just how leisurely or productive you want to be.
Come see what McCormick Ranch living is all about. Contact Paul Slaybaugh today for a viewing of your new home and community. And be quick about it. Opportunities like this do not come often, and do not stay late.
*Foot-draggers need not apply.
Click for full property details for Via De La Luna Home in McCormick Ranch
Learn more about Estate Los Arboles in McCormick Ranch
Use the interactive street map below to take a tour of Estate Los Arboles!