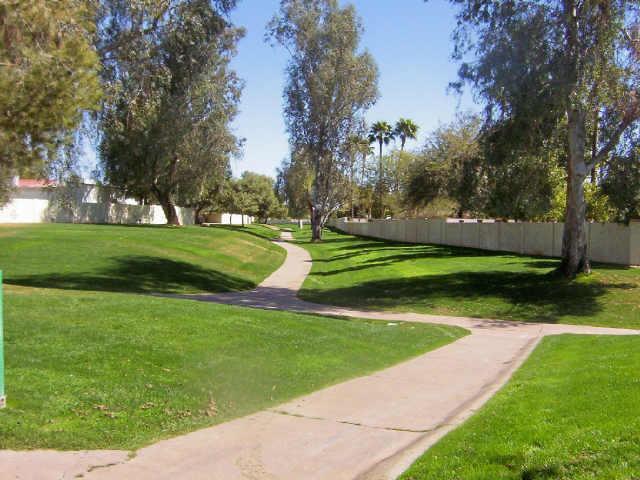 Paradise Park Trails in McCormick Ranch lies at the very Northern tip of Scottsdale's flagship master planned community. Featuring homes from multiple builders, including Cavalier, Camelot (Hancock), Tarantini, Gateway and Golden Heritage, among others, the plans are as diverse as the needs of its residents.
Bounded by Mountainview Rd on the South, Hayden Road on the West, Shea Boulevard on the North and Arabian Trail on the East (main thoroughfare for the community which traces a semi-circle through the neighborhood), and composed of 276 improved lots, Paradise Park Trails is one of the largest subdivisions in McCormick Ranch. Of the 276 properties, all but one are single-level. While the majority of the homes were constructed in the early 1980s, ages range from 1978 to 2004. The average home size is 2434 sq ft, with 241 of the homes having private pools. Block and frame-wood construction are both found in this neighborhood, as are both vaulted tile, flat and asphalt shingled roofs.
View Paradise Park Trails / Paradise Park Manor in a larger map
Add the 188 residences in its sister subdivision, Paradise Park Trails 2, to the mix and the homes range in size from approximately 1700 – 5800 sq ft. The homes which line Appaloosa Trail on the Northern edge of the neighborhood sit upon some of the largest lots (1/2 – 1 acre) in all of McCormick Ranch. Many of these properties boast large custom built homes.
Facts and figures aside, this portion of McCormick Ranch is notable for the extensive walking / bike path system which stretches throughout the community greenbelts. Utilizing these paths, children in Paradise Park Trails can walk to Cochise Elementary School (homes in Paradise Park Trails also fall within the Cocopah Middle School and Chaparral High School districts) or the adjoining Mountain View Park without having to cross the heavily trafficked Mountain View Rd.  While not located in the immediate vicinity of the McCormick Ranch lakes, residents do have rights of use to fishing and boating.
In addition to the numerous businesses and conveniences to be found along the Shea corridor, the shopping plaza at the corner of Hayden and Mountain View serves as a terrific neighborhood resource. In addition to the obligatory gas station, dry-cleaner and fast food joint (Burger King), there are a few great mom & pop style businesses. JP Pancake, not surprisingly, is a breakfast favorite, while Joyful Chinese Dining (formerly known as Eddie Chan's Fine Dining) and Leccabaffi (Italian cuisine) take care of dinner. Ranch Pharmacy and Desert Tails Animal Clinic are noteworthy as well.
Want to learn more about the homes of Paradise Park Trails? Check out the McCormick Ranch Home Floor Plan page to review builder plans (scroll to builder names mentioned above).
Check out our general community page for an overview of McCormick Ranch.
______________________________________________________________________
Homes Currently For Sale or Lease in Paradise Park Trails
(Updated Daily)