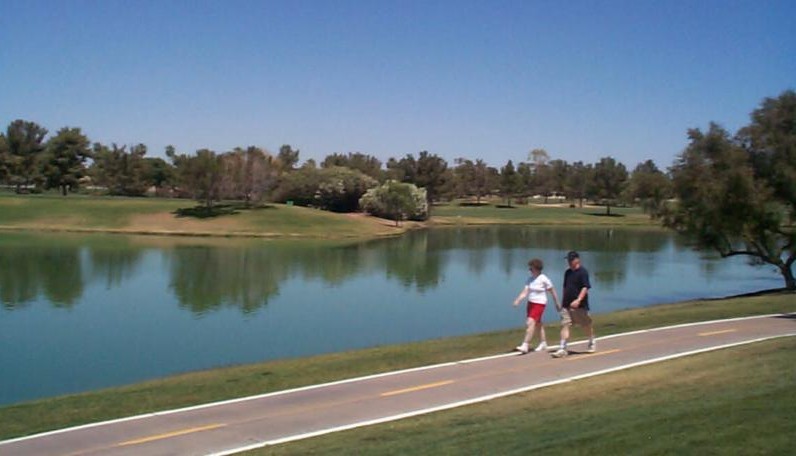 One of the most well-known patio home communities in all of Scottsdale, Santa Fe in McCormick Ranch has come to symbolize low maintenance living in central Scottsdale.  Located just NE of the Hayden & McCormick Parkway intersection, this community of 366 homes (cumulatively between its two phases) has become a favorite amongst seasonal vacation home owners as well as with full time residents who simply prefer the lesser hassle living.  With a Western boundary that abuts the famous Camelback Walk multi-use path that stretches throughout McCormick Ranch, homes that back up to it boast gorgeous views of the McCormick Ranch Golf Club's Palm Course.
Primarily constructed by Ballard, the original Santa Fe subdivision consisted of 125 homes.  Averaging 1979 square feet, 106 of these were single-level, with the remaining 15 two-stories.  Built in 1978 with block construction, none of these patio homes featured private swimming pools.  The subdivision includes a mix of flat and tile roofing, with 2 car garages being the norm.
Legally classified as townhomes (share common walls, ownership of the land on the individual lot as well as indivisible interest in the common areas), this phase of Santa Fe is zoned R-4R by the city of Scottsdale (Resort or residential medium density).  Lot sizes average between 4000-5000 square feet.
Santa Fe Unit 2 (2nd phase) is comprised of 241 properties.  Built between 1979-1984 (primarily by Ballard and the Santa Fe Construction Co.), 210 are single-level, with the remaining 31 two-stories.  With an average home size of 1972 square feet, 7 (3%) feature private swimming pools.  Like phase 1, homes in Santa Fe Unit 2 were primarily constructed with block, feature both tile and flat roofing, and 2 car garages.  The zoning is likewise R-4R, with 4000-5000 square foot lot averages.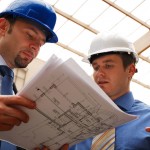 View McCormick Ranch Home Floor Plans
In addition to the immediate access to Camelback Walk, use of the community pools and spas, clubhouse/rec room, front yard maintenance, exterior maintenance of the units, blanket insurance policies on the structure and common area maintenance is included in the monthly fee (ranges from $125-205 per month).  There is also a $185 annual planned community fee for McCormick Ranch (fees current as of the time of this posting).
Located directly across Hayden Road from the Paseo Village shopping plaza, Santa Fe residents are within easy walking distance of breakfast favorite Lox, Stock and Bagel, McDonald's, LA Fitness and other local businesses.  To the North, at the Hayden / Via De Ventura intersection, lie The Village and Mercado Del Lago centers that feature Buster's On the Lake (dining), Royal Barge (Thai), Zipps Sports Grill, The Village Roastery (coffee shop), TCBY and more.
Following McCormick Parkway to the immediate West, residents can stroll down the most attractive street (in this agent's humble opinion) in all of Scottsdale.  With the McCormick Ranch Golf Club's Pine Course to the South and Palm Course on the North, pedestrians or drivers are further treated to Camelback Mountain Views beyond the lake at the Millennium Resort.  Tucked away on the North, amongst the Meridian at McCormick Ranch and Spanish Oaks communities is the Scottsdale Resort and Conference Center.  And, of course, who can forget about the renowned McCormick-Stillman Railroad Park as a favorite local attraction?
The Santa Fe subdivision falls within the Kiva Elementary, Mohave Middle and Saguaro High School districts.
Learn More About McCormick Ranch in Scottsdale AZ
Ready to launch your Santa Fe home Search in McCormick Ranch?
Check out the live feed below for current Santa Fe homes on the market!
______________________________________________________________
Homes for Sale (or lease) in the Santa Fe subdivision(s) in McCormick Ranch

See all Santa Fe tract Homes For Sale.
(all data current as of 11/20/2017)

Listing information deemed reliable but not guaranteed. Read full disclaimer.
_____________________________________________________________
Buying or Selling a Home in McCormick Ranch?  Look on further than the Ranch Experts for all of your McCormick Ranch Real Estate needs.  With nearly a half century of combined specialized experience in the McCormick Ranch market, no one knows the Ranch like Ray and Paul.  No one.
(480) 220-2337 | paul@scottsdalepropertyshop.com