Estados De La Mancha in McCormick Ranch is a unique subdivision of semi-custom homes at the NE corner of the Hayden and Via Linda intersection.  Coveted by many for the architectural uniqueness from one property to the next, the proximity to Cochise Elementary School (directly across from the subdivision's Eastern boundary at 84th St) and the greenbelt / multi-use path system is similarly appealing.
While many of the homes were built by Tallaksen (original development of the subdivision began in 1979), homes have been built as recently as 1992 in Estados De La Mancha.  Now completely built out, like most every other McCormick Ranch neighborhood, any new development will have to go up in the aftermath of a razed property.  With extensive renovation dotting the area, the value of such a project can be supported (provided the budget is kept within reason, of course).  The difference in style / layout from one house to the next is very appealing to the remodeler.  After all, you can only do so much with a boxy plan that looks like every other house in the neighborhood.
Homes in Estados De La Mancha average 2778 square feet (approximately).  Of the 91 homes, 83 (91%) feature private pools.  89 are single level, and there are two 2-story homes in the subdivision.  There is a mix of flat and tile roofs.  Zoned R-7 (one house per 7000 square ft minimum), most homes sit on lots in the 10,000-11,000 sq ft range.
Cochise Elementary School
In addition to Cochise Elementary, Estados De La Mancha falls within the district lines of Cocopah Middle School and Chaparral High School: perhaps the most sought after school trio in the entire Valley.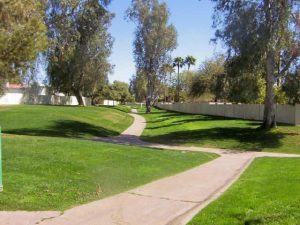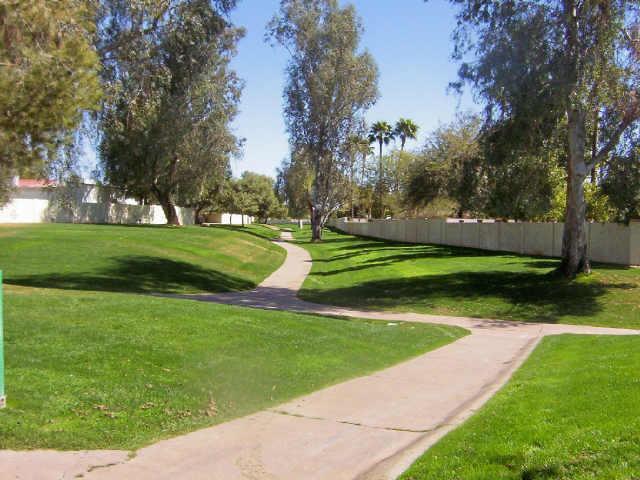 Following the greenbelt that lies just beyond the Cochise soccer fields, a jogger or bike rider can head East towards Mountain View Park, Mustang Library and Scottsdale Healthcare (Shea Campus), or West towards the McCormick Ranch lakes (Lake Angela, Lake Nino and Lake Margherite, restaurants (Buster's On the Lake, The Melting Pot, Zipps, The Royal Barge, etc) and the McCormick Ranch Golf Club (Palm Course & Pine Course).  Neighboring subdivisions include the El Paseo, Villa Hermosa, Playa Del Sur and Suggs Rancho McCormick.
Want to read more about the subdivisions of McCormick Ranch? Visit the McCormick Ranch Home page for comprehensive neighborhood spotlights, floor plans, homes for sale, school info, community amenities and events, Real Estate happenings and more.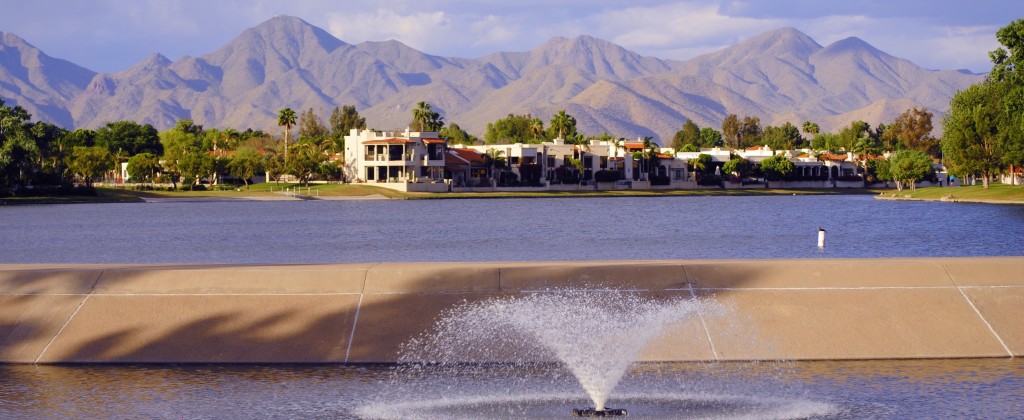 Homes For Sale in Estados De La Mancha
(Updated Daily)
Whether buying or selling a home in McCormick Ranch, we're your guys.  With nearly 50 combined years of experience selling McCormick Ranch Real Estate, nobody does it better than Ray and Paul.
(480) 220-2337 | paul@scottsdalepropertyshop.com