One of a select few subdivisions in McCormick Ranch (and all of Scottsdale, for that matter) that boast waterfront property, the Island at McCormick Ranch neighborhood is a true gem. Hugging the banks of all three of McCormick Ranch's primary lakes (Lake Margherite, Lake Nino and Lake Angela), the Island is a custom home subdivision which features single family homes of a wide variety of style and architecture.
With 85 improved lots in the neighborhood, there are 74 single-level homes and 11 two-story homes. Zoned R1-10 for 10,000 square foot lot minimums (approx. 1/4 acre), the average house size is 3288 square feet (per the county assessor). 72 of the homes (93%) feature private pools. There is one undeveloped lot left in the community that is privately owned. Sitting on the North bank with a view right down the throat of the Lake Margherite, a multi-million dollar property will eventually replace one of the last pieces of bare dirt in all of McCormick Ranch. Home prices are similar to those of the nearby waterfront community of Vista Del Lago, with lakefront properties commanding well in excess of $1 million (multi-million in some cases), and interior lots selling for considerably less. Most construction took place in the late 1970s through the early 1980s, but there have been homes built as recently as 1998.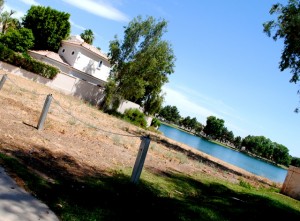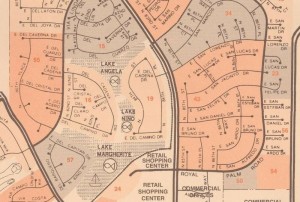 Click Map to Zoom
Though the island moniker is a bit of a misnomer, the subdivision is essentially a peninsula. Bordered by water on the North, South and East, the Island can only be accessed from Via Linda Rd at Del Camino (South entry) & Del Cadena (North entry).
The Island at McCormick Ranch falls within the Cochise Elementary / Cocopah Middle / Chaparral High School districts of the Scottsdale Unified School District.
Notable amenities, aside from the private boat dock privileges of those lucky residents with lake properties, include immediate access to the bike paths, fishing, boating, shops and restaurants of The Village and Mercado Del Lago centers (including Buster's On the Lake, The Melting Pot, Chipotle, TCBY, Royal Barge Thai Cuisine, Zipps Bar & Grill and more), Camelback Walk (section of the multi-use path which traverses the McCormick Ranch golf course(s), neighborhood parks (Rotary Park & Mountain View Park are within walking distance), etc.
If you are drawn to both unique, custom homes and waterfront living, it doesn't get much better than the Island at McCormick Ranch. While the lifestyle will not fit every budget, it is a fitting reward for those enterprising souls fortunate enough to call it home.

View of Lake Margherite from Via Linda
(The Island lies on the left bank, Vista Del Lago on the right)
Overview of McCormick Ranch in Scottsdale AZ
View McCormick Ranch Home Floor Plans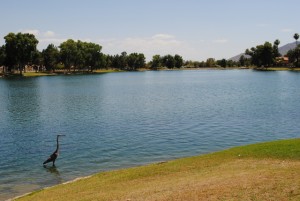 ___________________________________________________________________
Homes For Sale in the Island at McCormick Ranch
(Updated Daily)
Ray and Paul Slaybaugh are your guides to McCormick Ranch Real Estate.  With nearly 50 years combined experienced selling homes in Scottsdale, put McCormick Ranch's resident specialists to work for you when the time comes to buy or sell.  Nobody knows the Ranch like Ray & Paul.
(480) 220-2337   | paul@scottsdalepropertyshop.com