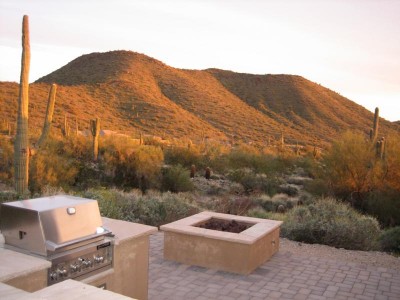 McDowell Mountain Ranch is a North Scottsdale master planned community nestled in the foothills of the McDowell Mountains (inconceivable, I know).  Originally developed in the mid '90s (with fill-in development continuing for the next decade) with subdivisions from well-known builders including Camelot, Shea, Woodside, Ryland, Del Webb, Edmunds, TW Lewis, etc, the once Northern outpost to Scottsdale has become much more centralized with the subsequent completion of the Loop 101 freeway and ensuing development.  Home to some 4000 residences and 26 subdivisions, this model of low impact development has become one of the most sought-after communities in all of Scottsdale and features property styles for virtually every budget.  From modest townhouses to gated enclaves of $1,000,000+ single-family homes, the community appeals to full-time and seasonal residents from all walks of life.
In addition to the ample choices of housing (comparatively newer by Scottsdale standards, I might add), McDowell Mountain Ranch has gained its name brand appeal through its amazing confluence of amenities.  From the newly completed aquatic center (city park) to the various community pools, parks and centers sprinkled along the community-wide walking path system, there is little that is not offered here.  Nature lovers and hiking enthusiasts will lose themselves in the raw beauty of the desert preserves which can be accessed through several trail heads.  Boasting city and mountain views, the serendipitous challenge of the Sanctuary Golf Course is enjoyable to serious players and weekend duffers alike.  Throw in the Alltel Ice Den (Phoenix Coyotes affiliate ice hockey center), Westworld (equestrian center), restaurants, shopping and conveniences, and McDowell Mountain Ranch is essentially a city unto itself.
As development continues in adjoining communities like Trails North at Horseman's Park, Windgate Ranch and DC Ranch, this general area is where most Scottsdale home shoppers migrate for newer construction.  Developed Northward from her shared border with Tempe, and essentially built-out save for a few isolated pockets, you either have to head North towards Pinnacle Peak (and beyond) or East towards Fountain Hills to find newer homes. Where many home buyers were once forced into the trade-off of an older property for a close-in location, the expansion of the Valley's infrastructure has made that dilemma a thing of the past. With exit points at both Bell Road and Thompson Peak, McDowell Mountain Ranch enjoys the advantage of having two viable options for freeway access. Once on the 101, you can reach virtually any part of the Valley within 20-30 minutes.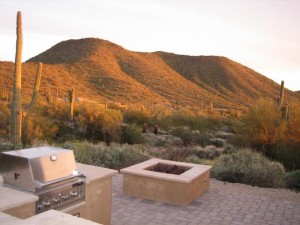 For school information, community attractions and builder floor plans, please see below.  Note that the floor plan library, while extensive, is by no means complete.  We will be revisiting this post as we add additional builders/models to the list, so feel free to check back on occasion to keep tabs on our progress. Curious what the houses in this community are currently going for? Click on the map at the bottom of the page to view current active listings in McDowell Mountain Ranch.
_____________________________________________________
Schools:
Formerly bussed all the way down to Saguaro High School, McDowell Mountain Ranch high schoolers now attend Desert Mountain High on Via Linda just East of 124th St.
Younger kids don't have far to travel as both Desert Canyon Elementary and Desert Canyon Middle School are located right in McDowell Mountain Ranch (SE corner of McDowell Mountain Ranch Parkway and Thompson Peak).
In addition to the public schools, the Notre Dame Preparatory High School campus lies just outside of the McDowell Mountain Ranch borders off of Bell Road.
_____________________________________________________
Community Amenities:
McDowell Mountain Ranch Park and Aquatic Center
Westworld of Scottsdale Equestrian Center
McDowell Mountain Ranch Skate Park
McDowell Sonoran Mountain Preserves
Sanctuary Golf Course
_____________________________________________________
Builders | Floor Plans:
Camelot Homes | Vista | Castle Dome | Plan 932| Plan 932-5 | Pinnacle | Mingus | Crest| Summit | Ridge
Cachet Homes  |

Centex Homes | Plan 732 | 733 | 734 (1st level) | 734 (2nd Level) | 736 (1st Level) | 736 (2nd Level) |Ladera | Montana | Tierra
Del Webb (Coventry) | Dante | Lido | Medici
Edmunds  |

Engle Homes  |

Greystone Homes  |

KB Homes  |

Maracay Homes | Plan 700 | McDowell| Mesquite | Santa Rita | Sierra | Talima
Presley Homes | Aruba | Key Largo | Molokai | Samoa | Victoria
Ryland Homes | Plan 610 | Plan 616 | Plan 622 | Plan 624 | Plan 1744
Shea Homes  |

TW Lewis  |

UDC Homes  |

Woodside Homes | Plan 2 | Plan 2X | Plan 3 | Plan 4 | Plan 4X | Plan 5 | Plan 5X
_____________________________________________________
Latest Homes for Sale in McDowell Mountain Ranch